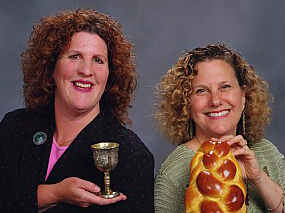 Joyce Eisenberg and Ellen Scolnic
are The Word Mavens
These two Philadelphia ladies know the difference between a dreidel and a draykop. They write, speak, blog and tweet about all things Jewish.
The Dictionary of Jewish Words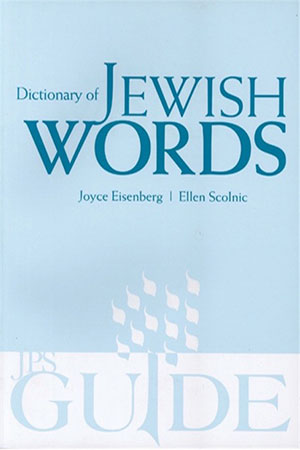 From abba to zaftig, The Dictionary is a user-friendly guide to all aspects of Jewish life. Entries include the Yiddish, Hebrew and English words associated with Jewish holidays, foods, traditions, modern Israel, the Bible and more. Hailed as "an informative and indispensable reference," this handy book is an entertaining resource not only for Jews, but also for anyone interested in Jewish culture.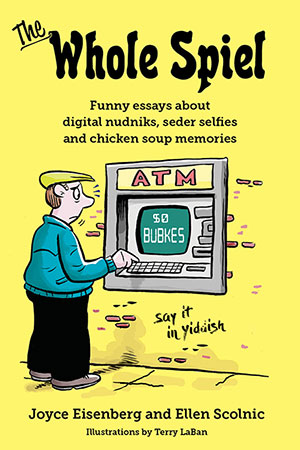 The Word Mavens' new book, The Whole Spiel, is collection of humorous essays that have been called "a terrific commentary on living a modern Jewish life."  When the authors ask why body parts sound cuter in Yiddish, debate the difference between rugelach and shnecken, kvetch about shvitzing and kvell about their kids coming home, you'll recognize yourself, your mom and your neighbors.
Speakers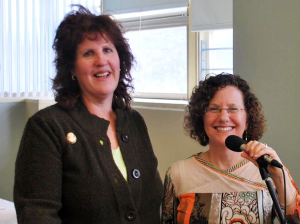 For more than 15 years, The Word Mavens have shlepped around the country to shmooze with Sisterhoods, Men's Clubs, JCCs, seniors and communal groups, sharing their insights from years of researching and writing about Jewish life. In their humorous book talk, The Word Mavens celebrate Jewish traditions, holidays, beloved foods and the Yiddish and Hebrew words that describe them. Their program – which includes everything from fun facts about bagels to why there is no substitute for a good "Oy!" – rekindles childhood memories and makes audiences laugh out loud.
"I've heard only rave reviews for your talk at our combined Men's Club and Sisterhood breakfast. Everyone enjoyed your amusing anecdotes
and informative talk!"

– Phyllis Wexler, Program Chairman, Oxford Circle JCC, Philadelphia, PA
Humor and Feature Writers



Joyce and Ellen write feature stories and personal essays together. Their Word Mavens' byline appears frequently in national and local publications, such as The Forward, Moment Magazine, InterfaithFamily.com, and NewsWorks.org, the online site for public broadcasting in Philadelphia. They are regular contributors to the Commentary page of The Philadelphia Inquirer, where they offer their opinions on everything from Christmas tchotchkes and paper valentines to the questionable benefits of loyal shoppers clubs. To read a sampling of their essays, click here.
"You made my day! Amid all the serious news and dreary projections was your delightful Hanukkah description … very funny and educational. Your enthusiasm was contagious. Thank you for the morning lift!" ­
– Myra, an Inquirer reader
The Word Mavens' blog, Shmoozing With the Word Mavens, was the winner of the Pennsylvania Press Club's 2015 award for best "Blog & Commentary." Their op-ed columns took home one of the organization's 2017 awards in "Specialty Articles – Business."
When they are not working together, they both pursue independent projects. Joyce Eisenberg is an expert editor who also tackles various writing projects; Ellen Scolnic writes feature articles and personal essays. Both do marketing and public relations work. After all, they do have to bring home the babka.