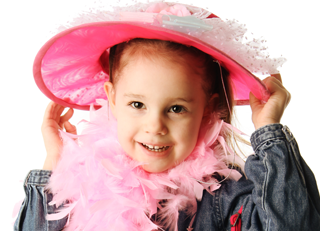 Fapitzed
adj. Yiddish: all dolled up
"She loves playing dress-up and getting all fapitzed."
The Dictionary of Jewish Words
Your new boss slaps you on the back and says, "Bob, you are such a shmeggegge." Should you expect a raise or a pink slip?

Your niece had a baby and you've gotten an invitation to the naming ceremony? Didn't they already give the girl a name?
Your Jewish mother-in-law asks if you've found hazeret for the holiday. Where should you look – the supermarket, the dry-cleaners or the library?
You'll find the answers to these and other questions in the fun-to-read, easy-to-understand Dictionary of Jewish Words (Jewish Publication Society 2001, 2006), a handy reference with more than 1,500 entries.
Organized in an A to Z format – What did you expect? It's a dictionary! – the book lets you quickly look up words associated with Jewish holidays and life-cycle events, culture, food, modern Israel, sacred texts, worship, and more.
After you read the definition of shmeggegge, you'll know that he's not a bad guy, just a whiner – and he's very different from a shnorrer. And between the definitions of nachas and nebbish, you'll find out what to expect at your niece's baby naming ceremony.
Indexes at the back of the book, arranged by category, help you find the word you want, even if you don't know how to spell it. In the Passover category, you'll find that hazeret is one of the items on a seder plate, along with beitzah and karpas.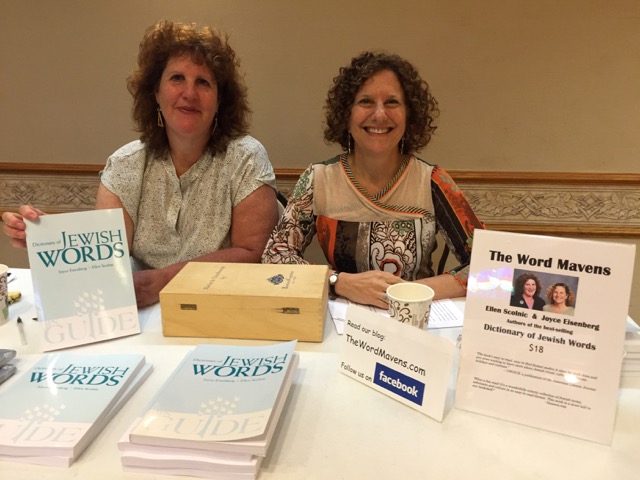 The Dictionary has been an indispensable resource for modern Jewish families, for intermarried families, and for anyone who wants to learn more about Jewish holidays, foods and traditions. A reader, posting on Amazon.com wrote: "At last! Here is the book you've been waiting for if you:
want to understand all the things your grandparents said when you were little.
are part of an intermarried couple and would like to do a better job on holiday observance in your home.
want to check out the true meaning of words, phrases, and expressions that you may have heard or even used.
want a few laughs while learning about Yiddish from two delightful writers."
The Word Mavens recently released their second book, The Whole Spiel, a collection of humorous essays about digital nudniks, seder selfies and chicken soup memories. Their entertaining program about Jewish holidays, customs, foods and more gets rave reviews.
Some Reasons to Kvell 
Since the first edition was published in 2001, the Dictionary of Jewish Words has been reprinted, studied, used, and referenced in numerous forms.
Several Christian publishers, recognizing the Dictionary as accessible, scholarly and amusing, have added the book to their collections for pastors, theologians, Christian lay leadership and students.
The Dictionary's success inspired the Jewish Publication Society to launch the JPS Guides, an acclaimed series of reference books.
The editors of Moment magazine, the largest independent Jewish magazine in North America, adopted the Dictionary as its official style guide.
When the Actors Theatre of Louisville, KY, staged a performance of The Chosen, they recommended the Dictionary to their audiences as a study guide.
REVIEWS
"An entertaining resource … where else will you find sekhel defined as 'using one's noodle'? All told, the Dictionary of Jewish Words is geshmak, so enjoy!"
– The Reporter, the magazine of Women's American ORT
"Thanks so much for your Dictionary. I'm having fun already and I haven't gotten past the "A" words yet!"
– J. Beekman, Southampton, PA
"The Dictionary of Jewish Words is a treasure chest of Jewish vocabulary. The book does a good job of boiling down some very large and complex words to their essentials."
– The Jewish Bulletin of Northern California
"There are a lot of Hebrew words, synagogue words and religious words that people don't really know and wouldn't know who to ask. You took the trouble to investigate and define these words. I really enjoy knowing where words are from and what they relate to, and your dictionary is great for that."
– Stan Shrager, Allentown, PA
"This book is a great resource. As a Christian family in a predominantly Jewish community, we have often felt a little confused by some of the words that come up in conversation. We were invited to a seder this year; our new knowledge from the book made the experience much more meaningful."
– K. Ivory, Merion, PA
"The book's easy-to-read, easy-to-find format makes it ideal for both Jews and non-Jews wishing to learn more about Jewish ritual, culture, traditions, holidays and customs."
– CHOICE, a publication of the American Library Journal
"This breezy, alphabetical listing of Jewish words would be valuable in a number of contexts. Those who regularly consult literary works dealing with Judaism will find that this handy guide substantially enhances their experiences."
– Religious Studies Review