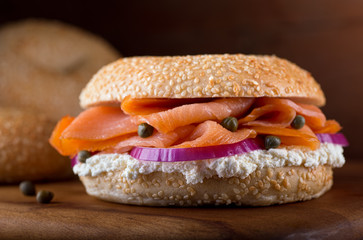 Nosh
n. Yiddish: a little snack
"It's nice they put out bagels and coffee. We like a little nosh before the program."
Looking for an entertaining program for your organization?
Book The Word Mavens, two ladies who know the difference between a dreidel and a draykop. Their hour-long program always gets rave reviews:
"Our members loved everything about your talk. They said it was the best program we ever had."  
– Barbara Goldstein, Temple Beth Tikvah, Wayne, NJ

"Not only did the women laugh and have fun, but they reported learning as well."
– Charlene Shapiro, New Jersey Regional Hadassah
Joyce Eisenberg and Ellen Scolnic are the authors of the Dictionary of Jewish Words and The Whole Spiel: Funny essays about digital nudniks, seder selfies and chicken soup memories. Their hour-long program is a humorous and informative look at Jewish holidays, customs, foods and more: What's the difference between rugelach and shnecken? Why did the cardinals shmooze about the Pope? Why is brisket a Jewish food? Is there a law that says you must give a Hanukkah gift on all eight nights?
As part of their presentation, Joyce and Ellen describe variations in Jewish observances around the globe, new traditions that usher words into existence, and funny stories of how Yiddish words are often mangled in daily conversation.
The Word Mavens have presented their program to more than 100 groups in six states, with audiences ranging in size from 25 to more than 300. Audiences at JCCs; Hadassah Lunch & Learns; Jewish Federations; synagogue Sisterhood, Men's Club and senior groups; and Jewish book fairs have laughed out loud. The New Jersey Jewish News covered their presentation at a local synagogue.
Audience members routinely thank The Word Mavens for rekindling fond memories from their childhood and reminding them of some of their most beloved traditions and celebrations.
"Enjoyable. Enlightening. Excellent. These are just a few of the words I have heard used to describe the program you presented."
– Rabbi Ron Muroff, Chisuk Emuna Congregation, Harrisburg, PA

"The program was very entertaining and had lots of audience participation. I also found out I knew more about Jewish words than I thought."
– Rose Ann Rosenthal, Somerset, NJ

Winter & Spring Engagements
Monday, March 19, 2018
Har Zion Temple
Penn Valley, PA
Sunday, April 8, 2018
Old York Road Temple-
Beth Am Sisterhood
Abington, PA
Tuesday, April 17, 2018
Adath Emanu-El
Mt. Laurel, NJ
Sunday, April 22
Brith Achim
King of Prussia, PA
Tuesday, May 1
Main Line Reform Temple
Sisterhood Closing Dinner
Wynnewood, PA
Sunday, June 10, 2018
Ohev Shalom
Wallingford, PA

Appearances
Below is a partial list of The Word Mavens' past speaking engagements: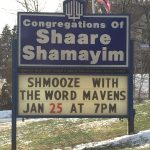 Beth El Congregation Combined Sisterhood Event, Baltimore, MD
Beth Sholom Congregation, Elkins Park, PA
Brandeis National Committee, Freehold, NJ
Congregation Kol Emet, Yardley PA
Gershman Y Lunch & Learn, Philadelphia, PA
Har Zion Temple, Penn Valley, PA
JCC of the Lehigh Valley Author Series, Allentown, PA
Jewish Book Fair, Houston, Texas
Jewish Cultural Center of Reading
Jewish Geriatric Home Closing Board Dinner, Cherry Hill, NJ
National Council of Jewish Women Closing Luncheon, Phila, PA
Rabbi's Special Event, Ohev Shalom of Bucks County
Siegel Jewish Community Center, Wilmington, Delaware
Temple Adath Emanu-El Men's Club brunch, Mount Laurel, NJ
Temple Beth El, Lancaster, PA
Temple Beth El HAZAK group, Somerset, NJ
Temple Gates of Prayer Sisterhood, Flushing, NY
Temple Israel Sisterhood, Merrick, NY
Women's Division, Jewish Federation of Greater Philadelphia
Yiddish Club of Greenbriar at Whittingham, Monroe Township, NJ