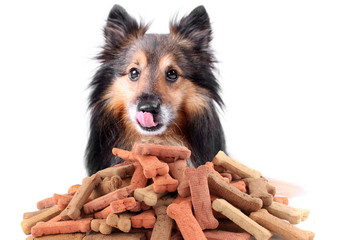 Mavens
pl. n. Yiddish: experts
"Buddy has great taste. He's a dog biscuit maven."
Meet The Word Mavens
When Philadelphia editor Joyce Eisenberg met Philadelphia writer Ellen Scolnic, it was bashert, a match made in publishing heaven. They met while Joyce was an editor at the Jewish Exponent newspaper and Ellen was a regular contributor. One day they were looking for more information about the krenzel, the crowning ceremony that honors parents when they've married off their last child. They realized that they needed a handy Jewish dictionary and couldn't find one, so they decided to write one! Their Dictionary of Jewish Words was published by JPS – and you can find krenzel on page 87, right after krechz (to moan or complain.)
They've been writing partners ever since. Together they've written hundreds of definitions of Jewish words, a second edition of their Dictionary, 751 tweets, dozens of op-ed essays, and more than 100 blog posts on topics ranging from knipples and knishes to year-round shvitzing and the crazy Jewish calendar. Their blog, Shmoozing With the Word Mavens, was the winner of the Pennsylvania Press Club's 2015 award for best "Blog & Commentary."
---
"I loved your Mother's Day essay as it took me back to my own childhood. Thanks so much for the smile and the memories!"
– M. Rothstein, Philadelphia Inquirer reader
---
They dispense advice to world leaders, their children and anybody who will listen. Their essays have appeared on The Philadelphia Inquirer's Commentary pages: They told President Obama how to throw a perfect White House Hanukkah party; kibitzed about coping wi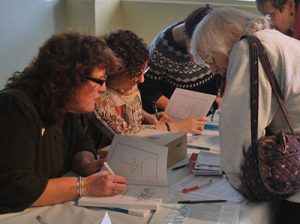 th new technology by asking old-fashioned questions, and mused about cleaning out their parents' homes. In The Forward, their hilarious article comparing Jewish and secular New Year's celebrations was a reader favorite. On NewsWorks.org, Philadelphia's public broadcasting website, they gave readers tips on how to sneak out of a party. In The Writer, they explained how challenging it can be for two people to write personal essays with one voice. To read more of their essays, click here.
Joyce and Ellen have spent hours and hours together driving to speaking engagements to shmooze in person. They love discussing what they've learned about Jewish families, traditions, holidays and foods – and the words that describe them – and hearing the family memories and funny stories from their audiences.
Through the years, those audiences have asked if the Word Mavens were working on a new book. What would be their follow-up to a dictionary? A thesaurus? A phonebook? An encyclopedia?
Their second book, The Whole Spiel: Funny Essays About Digital Nudniks, Seder Selfies and Chicken Soup Memories (Incompra Press 2016), is a collection of humorous observations about modern life through a Jewish lens.
"You rocked! I can't tell you how many compliments I got after your presentation. Thank you for bringing your good spirits and sharing your timely anecdotes."
– Fredda Sacharow
Adult Ed/ Men's Club
Beth Tikvah, Marlton, NJ
"What a terrific program! Our sisterhood members were thoroughly entertained and absorbed. Thank you so much for making our closing dinner such an outstanding event."
– Gayle Vogel
Beth Sholom Sisterhood
Elkins Park, PA
"I received such wonderful feedback from your presentation today. You could tell from the feeling in the room – and the laughter – that you really connected with the audience!"
– Ruth Goldstein
Alisa Chapter Hadassah
Monroe Township, NJ